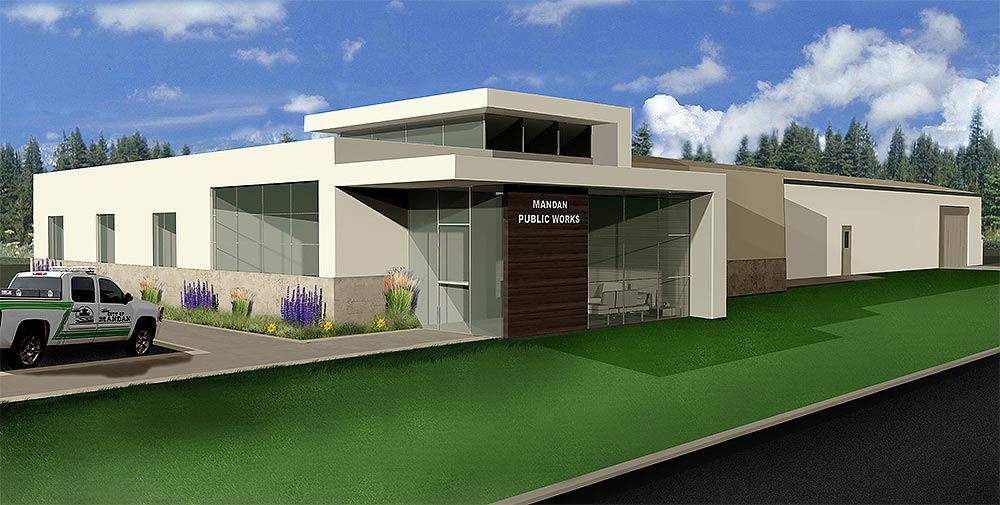 Derek Nelson, Project Manager
February 28, 2018
We have a strong history of engineering and architectural work on public building projects for municipalities around the West (including the recently-completed Water and Sewer Administration Building for the city of Manga, Utah). We also have two offices in North Dakota. So it made sense for the city of Mandan, ND, to select Epic Engineering back in 2016 to design its new Public Works admin buildings. The city appreciated our abilities to provide and manage all aspects of the design work and make it easier for them to coordinate all areas of the project through a single project manager.
We are proud to announce that we recently finished the bulk of the design work for the remodel and addition to the admin building (seen above), plus two other buildings on the grounds. Groundbreaking will occur this spring. We have provided designs for the civil engineering, structural engineering, architectural, mechanical, electrical, and plumbing portions of the project. We're happy with the results and think the citizens of Mandan will be, too.
Mandan sits on the west banks of the Missouri River, in the southwest corner of North Dakota. The city's population has surpassed 20,000 residents in recent years and has outgrown its current Public Works facility that was completed back in the Seventies. Epic Engineering is proud to be able to contribute to the progress of this growing city.